R.L. PASCHAL High School

2017 10 Reasons to Attend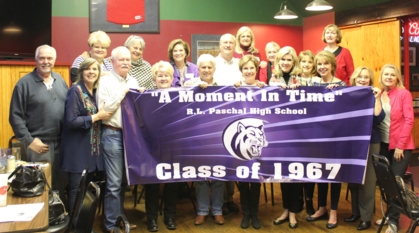 1967 Was




"A Moment In Time"




Let's Create Another MOMENT




In 2017

TEN Reasons
Why YOU Should Attend Your 50th Reunion
Number 10:
No one can relive that Big Game like the friends who were there with you when it happened.
Number 9:
You want to swoon over your ex-boyfriend/girlfriend.

Number 8:
Few events offer the opportunity to go back in time and laugh like a teenager.

Number 7:
You feel better than you have ever felt before.

Number 6:
You look better than you've ever looked before.

Number 5:
There are very few opportunities in life to reinvent yourself.

Number 4:
At a Reunion, everyone shows up OLDER, and then grows YOUNGER again.

Number 3:
Your classmates know just what it is like and how it feels to be 28, 38, 48, 58 and 68.

Number 2:
Group memories are better shared as a group.

And, the NUMBER 1
Reason You Should Attend Your 50th Reunion
Because, after 50 Years, YOU can!